Conference Speakers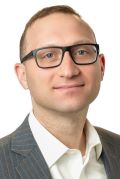 John Iarocci
VP, R&D and Quality, Nice-Pak
BIOGRAPHY
Mr. Iarocci is Vice-President, R&D and Quality for Nice-Pak Products, in charge of R&D strategy and launching market leading products. He has been with Nice-Pak since 2008 where he held various roles in Quality, Project Management and R&D. Prior to Nice-Pak he worked in vaccine manufacturing at Wyeth Biotech.
Mr. Iarocci obtained a Bachelor and Master of Science in Chemical Engineering from Manhattan College and a Master of Business Administration from the New York University Stern School of Business.
---
Tuesday, June 28
4:30 pm - 5:00 pm
2022 World of Wipes Innovation Award® Presentations
Nice 'N CLEAN® SecureFLUSH™ Technology Flushable Wipes
After six years of rigorous testing and development, Nice-Pak introduced SecureFLUSH™ technology flushable wipes, a 100% cellulose nonwoven that is strong and durable yet breaks apart five times faster than the leading brand of two-ply toilet paper. A specialty "lock and key" design of plant-based fibers and formula leverages patent-pending technology to make the product strong and durable while breaking apart rapidly when flushed to ensure responsible care of plumbing and wastewater.