Conference Speakers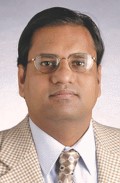 Seshadri Ramkumar
Professor, Texas Tech University - TIEHH
BIOGRAPHY
Seshadri Ramkumar has over twenty-five years of experience within the technical nonwovens space, conducting industry leading research and educating nonwovens professionals at Texas Tech University (TTU). At TTU, he established the Nonwovens Laboratory. Many of Ramkumar's students have gone on to become technical leaders within their organizations and the nonwovens industry.
Ramkumar has numerous patent and invention disclosures, including Fibertect® toxic chemical decontamination wipes which have been recognized by the American Chemical Society as a notable success of federally supported innovation, endorsed by Lawrence Livermore National Laboratory, and adopted by multiple branches of the military.
In addition to many peer-reviewed publications, articles, and columns collectively over 500, including one on nanofibers that has been cited over 2,100 times, Ramkumar has contributed his expertise on the editorial boards of multiple fiber, nonwoven, and textile journals. Ramkumar has also organized conferences for nonwovens and textiles and actively promoted INDA and its technical training offerings for over 20 years.
He is a longtime member of the INDA Technical Advisory Board, been recognized by TAPPI, Society of Dyers and Colorists (UK), the Textile Institute (UK), and the Textile Association (INDIA), and received numerous awards from TTU.
Ramkumar holds a Bachelors of Technology (Textiles), Graduated with Distinction, and a Masters of Technology (Textiles), University First Rank in the Discipline, Anna University, and a Ph.D. (Textile Materials) from the University of Leeds, UK.
---
Tuesday, July 18
4:40 pm - 4:50 pm
INDA Lifetime Technical Achievement Award
INDA Lifetime Technical Achievement Award Recipient
The INDA Lifetime Technical Achievement Award will recognize an individual whose technical achievements, over a career of 20 years or more, have meaningfully contributed to the growth of the nonwovens industry. This technical professional will have a long history of innovation, INDA involvement, and/or commercial success.