Conference Speakers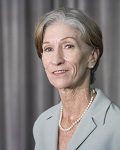 Jan O'Regan
Principal, O'Regan Consulting
BIOGRAPHY
Jan O'Regan was the Director, Strategic Initiatives and Nonwovens Marketing, for Cotton Incorporated and retired in 2022. In this capacity, she uncovered new opportunities for cotton to bring value into the nonwovens industry. Her work included leading efforts in strategic planning, technical and market project management, and sharing new ideas and results with the global supply chain.
O'Regan spent over four decades in the nonwovens industry in various roles, including sales, marketing, strategic planning and business management. Market responsibilities included consumer and industrial markets on regional, national, and global teams. Over the most recent years, she applied these broad experiences to new markets for cotton in nontraditional applications.
Serving and volunteering with INDA for decades, O'Regan most recently chaired the World of Wipes® committee, which she efficiently organized to produce innovative conferences for the wipes industry. She was a frequent speaker at INDA, INSIGHT, EDANA, and other events, and for nearly two decades was a go to source of information for cotton fibers in nonwovens and hygiene. O'Regan earned a BS in Textiles and Business, summa cum laude, from Penn State University and an MBA from New York University's Stern School of Business.
---
Tuesday, July 18
4:30 pm - 4:40 pm
INDA Lifetime Service Award
INDA Lifetime Service Award Recipient
The INDA Lifetime Service Award is given to individuals who have a long-established record of service to INDA, specifically, and the Nonwovens Industry as a whole. Recipients of this award have maintained an active partnership with INDA. This individual would have held a key role in planning and executing the long-term success of at least one of INDA's major events or services. This person is an avid supporter and spokesperson for the nonwovens industry. In summary, the Lifetime Service Award is given to the individual who has given his or her best both personally and professionally to the service of INDA and the Industry.