Conference Speakers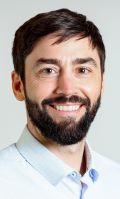 Matt Kocian
Product Manager Director, Berry Global
BIOGRAPHY
Matt Kocian is the Director of Product Management at Berry Global, a global leader in Nonwovens, where he leads the product line team for the Healthcare, Wipes, and Specialties segments in North America. In his current role, Matt brings Berry Global's vision and product strategy together with customer needs, driving new and innovative solutions to market, including the most recent launch of Endura™, a pre-consumer recycled content Nonwoven for Industrial applications. He has over 12 years of Nonwovens Industry experience, holding prior positions in product management, sales, and lean manufacturing at Fiberweb LLC, Polymer Group, Inc., and Berry Global. He began his professional career in the field of Architecture, and has a Master's degree in Landscape Architecture from the University of Minnesota, where he focused on sustainable design practices and storm water management.
---
Wednesday, July 19
2:00 pm - 3:15 pm
Transparency in the Supply Chain - Everyones Challenge
Certified Traceability Systems - Their Value & the Security Offered When Making Sustainability Claims
With consumer demand for raw material transparency strengthening, we as industry leaders must continue to keep that transparency top of mind as we provide cost effective sustainable solutions. Berry Global is the first company to obtain raw material and substrate traceability with ISCC+ certification in several of our nonwoven sites in the US. Matt Kocian will discuss the value that certified traceability systems provide throughout the value chain and how it impacts sustainability claims that may be made. In addition, Kocian will share his thoughts on the acceptance of such claims by consumers, and why it is important for the industry as a whole to lean forward in the creation of a circular economy.