Conference Speakers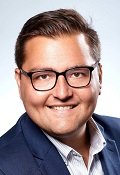 Wes Fisher
Director of Government Relations, INDA
BIOGRAPHY
Wes Fisher is the Director of Government Affairs at INDA, the Association of the Nonwoven Fabrics Industry, where he leads the association's government and regulatory affairs activities and manages strategic relationships with allied organizations, government officials, industry partners, and stakeholders in support of the nonwovens industry.
Prior to joining INDA in 2022, Wes was the Senior Director of Government Affairs for the Pet Advocacy Network (formerly the Pet Industry Joint Advisory Council) where he directed a multi-faceted legislative and regulatory portfolio on behalf of the pet care industry, and previously was the Director of Federal and State Affairs at the National Automatic Merchandising Association (NAMA), the national trade group representing the vending and unattended retail industry.
He is a member of the Board of Directors of the Washington Area State Relations Group (WASRG) and was appointed by the Governor of Virginia to serve on the state's Rare Disease Council.
---
Thursday, July 20
9:00 am - 11:00 am
Flushability: Regulation, Innovation, Standards & Education
Flushability Briefs - Legislative Efforts
Join us for three, crisp 10-minute presentations summarizing the latest activities on the subject of flushability.