Conference Speakers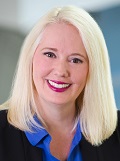 Vikki Martin
Vice-President, Fiber Competition, Cotton Incorporated
BIOGRAPHY
Vikki Martin is Vice President of Fiber Competition for Cotton Incorporated. She leads teams responsible for research on cotton quality measurements and oversees systems that aid with utilizing those quality measurements from the ginning to spinning portions of the textile industry. The division's research activities focus on improving technologies for measuring the quality of cotton fibers and initiatives intended to drive improvements in breeding better cotton fiber quality for the future. To support these research efforts and all other research activities at Cotton Incorporated, the division is responsible for a physical testing laboratory that provides testing services for fiber, yarn and fabric. The division also develops, markets, and supports a suite of software tools to aid with logistics, evaluation and optimization of cotton usage used by merchants and textile spinning mills. Experience tracking bales through this software suite has evolved into Mrs. Martin taking a lead role for Cotton Incorporated in understanding cotton traceability requirements. She also maintains expertise in cotton fiber quality measurements, U.S. cotton fiber quality data, cotton laundry care, product testing and evaluation.
Mrs. Martin is a third-generation textile worker with a B.S. and M.S. in Textile Chemistry from North Carolina State University. She is pursuing her Ph.D. part-time in Fibers and Biopolymers at Texas Tech (via distance learning).
Cotton Incorporated, funded by U.S. growers of upland cotton and importers of cotton and cotton textile products, is the research and marketing company representing upland cotton.
---
Wednesday, July 19
2:00 pm - 3:15 pm
Transparency in the Supply Chain - Everyones Challenge
Traceability - Documentation, Testing Technologies & New Regulations. Providing Education and Support to the Global Supply Chain
Sustainability efforts are rapidly evolving to incorporate traceability because there are various reasons for pursuing additional information. More critically, new regulations in the US and other large markets have pushed the industry into requiring traceability. Pursuing traceability is not easy, as there must be a balance between seeking specific origins and obtaining the qualities needed to meet product specifications. Documentation is the best defense when dealing with regulatory requirements; however, the complexity of the supply chain is a real challenge. Beyond documentation, there are a variety of testing technologies intended to verify the origin of materials, but the industry needs to understand how to evaluate whether or not a technology will meet its needs.