Conference Speakers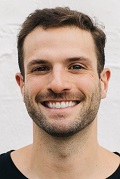 Sam Nebel
Co-Founder, Goodwipes
BIOGRAPHY
Sam Nebel is the co-founder of Goodwipes, a taboo-smashing, eco-friendly hygiene company empowering people to feel good and change the way people wipe their butts. Prior to starting Goodwipes, Sam was a franchisee of Complete Nutrition, the fastest growing health and wellness franchise in the U.S. at the time. He also launched Party Degree, a nightlife agency bringing the biggest EDM DJ's and hip-hop artists to colleges in the Southeast. He holds Bachelors' in Finance and Entrepreneurship from Florida State University. Sam is an award winning ceramist. In his free-time he enjoys power walks, being a 200 level chess player, golfing, trail running, reading, and imagining he was an MMA fighter during kickboxing class :).
---
Wednesday, July 19
9:00 am - 10:45 am
Consumers: What Are the Little Rascals Up to Now?
Closeness to the Consumer – Goodwipes to Uranus: To Boldly Go Where No Toilet Paper Company Has Gone Before
• Wet wipe usage indication
• Household consumption patterns
• Bubble guts and GI wellness
• Oopsie poosie, I dropped a doozie
• Caffeine culture
• Et tu, Papier Toilette?
• Bottoms up!