Conference Speakers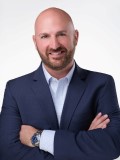 Matt Seaholm
CEO, Plastics Industry Association
BIOGRAPHY
Matt was appointed CEO of PLASTICS in April of 2022. Prior to that, he was the association's Vice President of Government Affairs, leading the advocacy effort on behalf of PLASTICS at all levels of government. He entered that role after having served as executive director for the American Recyclable Plastic Bag Alliance, a self-funded division of the Plastics Industry Association made up of companies committed to policies that promote and protect the plastic retail bag industry. Matt led their advocacy efforts to promote sustainable use and prevent the regulation and taxation of the industry's products.
---
Tuesday, July 18
10:30 am - 12:00 pm
Plastic Policy: Closing the Intention-Action Gap
Trends for the Plastics Industry - From Regulation to Reputation
As President & CEO of the Plastics Industry Association, Matt will provide insight into some of the most important trends for the broader plastics industry. Matt's experience in government affairs and public relations gives him a unique perspective leading PLASTICS and working on the challenges our industry is facing..