Conference Speakers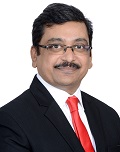 Rahul Bansal
Assistant Vice President- Global Sales & Marketing - Nonwovens, Birla Cellulose
BIOGRAPHY
Rahul Bansal joined Birla Cellulose in May 2010 as the Assistant Vice-President and is responsible for the global business development and key account management of Birla Cellulose's nonwovens group. Prior to joining Birla Cellulose, Rahul served as the General Manger at Ginni Nonwovens from 2007 – 2010.
Rahul is a "textile technocrat" with over 24-years of experience ranging from fiber and synthetic yarns to spunlace nonwovens and wet wipes.
---
Thursday, July 20
9:00 am - 11:00 am
Flushability: Regulation, Innovation, Standards & Education
Improving Product Attributes of Flushable Wipes / MTT Using Fibre innovation for Better Consumer Experience
GLOBAL FOCUS ON PLASTIC FREE WIPES - Spunlace wipes provides a good combination of consumer experience and low cost. However, in pursuit of cost competitiveness, slowly the blend of spunlace shifted to majority of plastic. At present most spunlace wipes are having 70-80% of plastics. With focus on environmental consciousness regulators started pushing the wipes to be plastic free.
DEVELOPMENT OF HYBRID NONWOVEN TECHNOLOGIES - The mover towards plastic free products led to the development of hybrid technologies in wetlaid and airlaid. The aim was to combine the sustainability & cost advantage of paper along with performance advantage of spunlace.
SHIFTS IN FLUSHABLE WIPES MARKET - Market for flushable wipes has been growing along with modifications in the regulations governing them (GD Standards / Fine to Flush / IWSFG).
PERFORMANCE GAPS IN FLUSHABLE WIPES - The flushable wipes substrates lacked in terms of softness and bulkiness achieved through spunlaced wipes.
INNOVATION TO FILL THE PERFORMANCE GAPS TO IMPROVE THE CONSUMER EXPERIENCE - We understood the performance gap and our R&D Team worked with value chain partners to develop improved cellulosic fibres to overcome these challenges. The results have shown enhanced softness and bulkiness with better flushability while maintaining the performance. The same is discussed in detail, in our presentation