Conference Speakers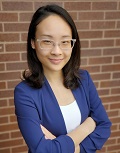 Liying Qian
Global Industry Manager – Tissue and Hygiene, Euromonitor International
BIOGRAPHY
Liying Qian is the global industry manager of tissue and disposable hygiene industries at Euromonitor International based in Chicago. Liying's research focuses on influential trends shaping tissue and disposable hygiene categories, underlying consumer preferences and behaviors, competitive dynamics, retail landscape, as well as ripple effects from insurgent brands and alternative product formats. She has contributed to publications such as Tissue World Magazine, Nonwovens Industry and Happi.
Prior to joining Euromonitor, Liying was a financial journalist. Following a brief stint at The Wall Street Journal, where she wrote about US stocks, Liying covered the M&A market in the Midwest for Mergermarket.
Liying holds bachelor's degrees in journalism and economics from University of Missouri.
---
Thursday, July 20
11:15 am - 11:30 am
WOW Pre-Conference Webinars: Top Global Consumer Trends and Their Implications in the Wipes Sector
Top Global Consumer Trends and Their Implications in the Wipes Sector
Radical lifestyle shifts shaped by recent macro turmoil has transformed the consumer landscape. Despite the pressure, consumers have proven to be resilient and adaptive to adversity by relinquishing control and embracing the uncertainty with more intentional, mindful and ambitious buying decisions.
Identifying and understanding changes in consumers' value, behaviors and motivations helps businesses to be more agile and sustain commercial relevance in an ever-evolving and challenged industry landscape.
This presentation will examine:
The key global consumer trends which resonate most and have the biggest implications on disposable consumer wipes
Key business actions to help navigate successful innovation and growth strategies that bring value for both customers and business