Conference Speakers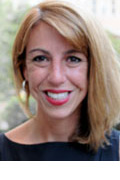 Jessica Franken
Director of Government, INDA, Association of the Nonwovens Fabrics Industry
BIOGRAPHY
Jessica Franken, INDA's Director of Government Affairs, has more than 15 years of professional government relations/public policy experience that includes positions on Capitol Hill and many years of work with industry association clients including INDA, Association of the Nonwoven Fabrics Industry, as well as groups representing recycled textiles, pharmaceutical printing and healthcare packaging industries. In this capacity, Franken has acted as a primary policy liaison/advocate between clients and public officials on a diverse array of issues including the environment, product safety, trade, tax, healthcare, manufacturing, and labor/workplace policy. She serves as an appointed advisor to the U.S. Department of Commerce's Industry Trade Advisory Committee for Textiles and Apparel (ITAC-13), is an active member in a number of textile industry and general business coalitions and is a frequent speaker on governmental issues of interest to her clients. She is a founding member of the Washington-based Alliance of Textile Professionals, a networking organization dedicated to connecting professionals involved in textiles/apparel, retail, sustainability and related arenas.
An accomplished writer, Jessica Franken has contributed to and authored more than 150 policy-themed articles for trade publications, and has developed numerous industry-adopted position papers and formal submissions to the U.S. government. She received a Master's degree in Public Policy from George Mason University's School of Public Policy, and was named the 2006 recipient of the university's coveted Alexis de Tocqueville Award for academic achievement and professionalism in the field of public policy. She earned her bachelor's degree in Government and Politics, graduating with honors from the University of Maryland, College Park, in 1997.
Franken is the President of The Franken Group, LLC, a government affairs consulting firm in Arlington, Virginia offering services to multiple association and industry clients.
---
Tuesday, June 25
9:05 am - 10:15 am
Consumer Trade & Trends - Amazon, Politics and Globalization I
Real News in Global Nonwovens Trade and Tariffs
While Democrats' seizure of the U.S. House of Representatives has raised meaningful questions about President Trump's ability to execute his policy agenda over the next two years, one thing is certain: international trade and tariffs are going to continue to be front and center for this President and the industries affected by them, including ours. Hear INDA's Director of Government Affairs Jessica Franken try and makes heads or tails of some of the more pressing trade issues impacting our industry including the trade war with China and resulting tariffs, the Miscellaneous Tariff Bill, duties on polyester staple fibers, the recently revised NAFTA agreement, upcoming bilateral free trade agreements and more.