Conference Speakers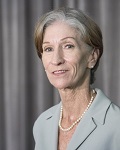 Janet O'Regan
Director, Nonwovens Marketing, Cotton Incorporated
BIOGRAPHY
Jan O'Regan is Director, Nonwovens Marketing for Cotton Incorporated. In this capacity she works to uncover new opportunities for cotton to bring value in to the nonwovens industry. The work includes leading efforts in strategic planning, technical and market project management and sharing ideas and results with the global supply chain.
Jan's professional experience is strong in nonwovens. She has spent over three decades in this industry in a variety of assignments including sales, marketing, strategic planning and business management. Market responsibilities included consumer and industrial markets on regional, national and global teams. Over the past ten years, she has had the opportunity to apply these broad experiences to new markets for cotton in nontraditional applications.
Jan earned a BS in Textiles and Business, summa cum laud from Penn State and an MBA from New York University's Stern School of Business. Since then she has continued to learn through executive education programs at Northwestern University.
---
Thursday, July 15
8:30 am - 10:35 am
Nonwoven Substrates for More Sustainable Wipes
Plastic Free Wipes – A Natural Concept
The European Union has passed a directive on the control of Single Use Plastics that has direct effect on the materials that are likely to be used for disposable consumer wipes and other single use nonwoven products. California, the Federal US Government and Canada are all assessing similar legislation that may be implemented over the next few years. This creates a need and potential opportunity for natural fibers to be used more extensively. A technical development project was launched to test bleached and unbleached short cut cotton fibers and pulp for potential use in plastic-free wipes and MTT.