Conference Speakers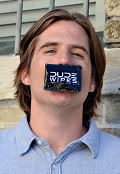 Sean Riley
CED, Dude Products Inc.
BIOGRAPHY
Sean Riley is the CEO of Dude Wipes–a brand of men's toiletries made specifically for men. DUDES received the Visionary Award at the Vision 2013 Consumer Products Conference. DUDE Wipes were also featured by MTV, Complex Magazine and in the December Issue of Maxim. On January 22, 2015, DUDE Wipes was featured on Rob Dyrdek's Fantasy Factory on MTV. Later that year he appeared on Season 7, Episode 4 of the Shark Tank. After some dramatic negotiations Mark Cuban infamously swooped in and made an investment in DUDE Products, he is now a member of the DUDE family.
---
Wednesday, June 29
2:00 pm - 3:30 pm
Trends in the Wipes Market and Among Consumers II
DUDE Wipes War on Toilet Paper, From the Apartment to Wiping Over 1 Billion Butts a Year
Hear the behind the scenes story of how DUDE Wipes accelerated its disruption of toilet paper during the pandemic with viral marketing and US manufacturing excellence. The brand that debuted as the Visionary Award winner at the 2013 VISION show now wipes over 1 billion butts per year and is just getting started.