Conference Speakers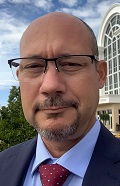 Dave Rohrbach
Plant Manager, Fitesa
BIOGRAPHY
Dave Rohrbach is the Plant Manager at Fitesa's High Point, NC site. Dave started with the company in 1991 and has held various roles within Fitesa ranging from Maintenance Manager, to Plant Manager, US Regional Project Manager and Senior Sales Manager. Dave has years of experience with spunmelt, meltblown, and carding technologies.
---
Tuesday, June 28
4:30 pm - 5:00 pm
2022 World of Wipes Innovation Award® Presentations
Dual Textured 3D Wipe
Abrasive cleaning pads and wipes are commonly used in many cleaning applications, including personal, home, commercial, and industrial applications. Traditionally, such cleaning pads and wipes include a layer having an abrasive material for removing so-called "stuck-on" materials that are difficult to remove, and an absorbent layer comprising an absorbent material, such as a sponge, foamed, or cellulose material. Various materials have been developed having abrasive surfaces for removing difficult to remove materials. Unfortunately, many of these materials do not exhibit a good balance of abrasiveness and the ability to capture materials (e.g., fluids, dirt, dust, and debris) removed from the surface to be cleaned. Accordingly, a need still exists to developed improved composite materials for cleaning surfaces
• Introducing Fitesa's newly developed 3D embossed, dual textured wiper. This novel nonwoven features exceptional cleaning capability, durability, dirt/debris capture, and fluid pick-up.
• Several configurations are offered, including MSM (Meltblown SpunBond, Meltblown); MSMSM (Meltblown, SMS, Meltblown); and more, all can be customized with scrubby surfaces and 3D embossed options as well as "Green" options such as PLA.
• Exceptional abrasion resistance for wipe longevity
• Dual surfaced: Textured (scrubby) layer aids in hard material removal, Soft surface for final finish wipe
• Debris capture capacity significantly improved due to "storage volume" created by 3D embossed projections and valleys
• Durability of wipe life compared to competitors is improved due to 3D "forging" process
• The wipe is produced with two different surface polymers to enhance roughness (scrubby-side) and softness (finish side)