Conference Speakers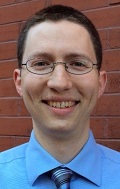 Jonathan Fast, Ph.D.
Senior Staff Scientist, Ecolab
BIOGRAPHY
Jonathan Fast, PhD, is currently Senior Staff Scientist, Global Wipes Innovation at Ecolab. In this role, Jonathan leads wipes early stage technology development, supporting all of Ecolab's global businesses, including the Healthcare, Life Sciences, Institutional and Industrial sectors. He joined Ecolab in 2008, with roles of increasing responsibility primarily focused on new disinfectant development. Jonathan currently holds 19 US patents related to industrial disinfectants and methods of use. He earned a PhD in Organic Chemistry from the University of Wisconsin-Madison.
---
Wednesday, June 29
11:00 am - 12:00 pm
Disinfection Concerns & New Technologies
The Latest in Quat Displacing Technology
Dr. Fast will provide a "quat" chemistry focused talk, specifically on known technical challenges when combined with nonwovens and how the industry has responded, as well as an overview of potential regulatory headwinds facing quats across all industries.