Conference Speakers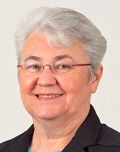 Barbara Strain, MA, CVAHP
Principal, Barbara Strain Consulting, LLC
BIOGRAPHY
Barbara Strain practices as an independent healthcare value consultant who assists a range of clients from new, emerging and disruptive technology to Fortune 500 companies, as well as medical innovation centers, and provider organizations in realizing value.
Prior to becoming an independent healthcare value consultant Barbara honed her expertise over a 40+ year career as a healthcare provider across multiple specialties first in clinical laboratory operations, microbiology, disinfection, sterilization and infection control then as a value analysis professional. She directed a highly functional, successful Value Management Program governed by an Executive Steering Committee.
As a leader in Supply Chain Management, she worked externally with GPOs and supplier executives while internally improved contracting, purchasing and supply chain operations designing efficient workflows to LEAN out waste and establishing key performance indicators. As a trained LEAN A3 facilitator and 6 Sigma Green belt she coordinated health system-wide quality care improvement initiatives.
Professionally Barbara is a founding member and past president of the Association of Healthcare Value Analysis Professionals (AHVAP). She actively participates in Association of Healthcare Resource & Material Management (AHRMM) and AHVAP committees and is a frequent speaker on such topics as value analysis and supply chain and moderates healthcare subject matter podcasts and panels. Barbara is an inductee of the 2121 Bellwether League Foundation's Hall of Fame for Healthcare Supply Chain Leadership.
---
Wednesday, June 29
11:00 am - 12:00 pm
Disinfection Concerns & New Technologies
Case Study: Surface Disinfection Incompatibility with Medical Devices Creates Potential Patient Risks
Healthcare facilities are challenged with surface disinfection incompatibility every single day. Chemical and physical incompatibility create microbial reservoirs that make cleaning and disinfection difficult at best and, in some cases, impossible. This issue has not gotten the attention it needs. The Healthcare Surfaces Institute (HSI) and the Association for Healthcare Value Analysis Professionals (AHVAP) collaborated on a recently released case study. These organizations took a deep dive into a costly disinfection incompatibility issue experienced by a large US hospital with a specific medical device used for patient care. This presentation will show what was found during the investigation and suggest ways to address these problems in the future.
This presentation will:
• Explore the current decision-making processes for adopting new medical devices into healthcare environments,
• Review product instructions for use (IFU) and testing data for alignment with the hospital's cleaning and disinfection process
• Discuss human and fiscal costs associated with unintended consequences of disinfectant and device incompatibility