Conference Speakers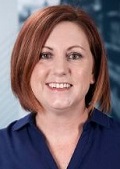 Kay Stanish
Sr. Director of Strategy, Product Management and New Markets, Packaging Solution, Jabil Packaging Solutions
BIOGRAPHY
Sr. Director of Strategy, Product Management and New Markets, Packaging Solutions, Jabil Packaging Solutions
Kay leads the strategic marketing function at Jabil Packaging Solutions which encompasses product management, marketing and strategic planning. Her responsibilities include the identification of critical market trends and the commercialization of compelling new packaging formats that help our brand customers capture market share. Kay has several years of experience in the packaging industry, having previously served at Aptargroup. Kay holds a BA and MBA from the University of Illinois.
---
Wednesday, June 29
4:00 pm - 5:00 pm
Sustainable Wipe Packaging Trends
Best of the Best: Hybrid Wipe Packaging Incorporating Rigid & Flexible Substrates
Every so often, a new product innovation comes along that is so simple and useful that we can't imagine our lives without it. Cleaning wipes have been on the rise for the past few years, but in 2020 they entrenched themselves as a household staple.
But the packaging form factor has room for improvement. Wipes canisters are bulky, use an excessive amount of plastic to protect a modest amount of paper-based product, and they tend to lose moisture over time leaving us high and dry when we need them most. With the explosion of ecommerce activity for fast moving consumer goods, we're seeing the weakness of legacy canisters that struggle with the bumps, shocks, and vibrations of home delivery. Questionable sustainability fundamentals. Outdated design that hasn't adapted to today's shopping environment. Frustrating user experience. Can't we do better?
FusePack wipes is a new hybrid packaging format from Jabil that combines the best features of rigid and flexible substrates. This lightweight but strong package can be produced in mono-material, PCR or compostable variants based on a brand's unique sustainability goals. Most importantly, FusePack's hybrid design allows for collection at material recovery facilities (MRF), ensuring a seamless recycling experience for consumers.