Conference Speakers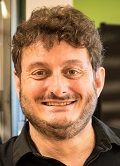 Sergio Barbarino
Research Fellow, Fabric & Home Care Open Innovation, Procter & Gamble Distribution Company Europe
BIOGRAPHY
Sergio Barbarino is an R&D Research Fellow at the Procter & Gamble Brussels Innovation Center. He leads the practice of open innovation, especially on large collaborative research projects. He is also the most Senior Process expert for the Home Care business. Sergio has been a supply chain innovation leader and has been a founder and current Vice Chair of ALICE the European Innovation Platform for Logistics. Born in Naples, Italy, Sergio has a Master degree in chemical engineering from the University of Napoli Federico II and an MBA from the Solvay Business School in Brussels. Sergio has been the scientific leader is several large collaborative research projects in the area of Logistics and innovative micro processing. Sergio has developed the manufacturing Processes of many well-known P&G Brands (e.g. Mr. Clean, Viakal,) including Mr. Clean Wipes and has been the chief designer for P&G of Innovative Liquid Manufacturing systems for developing markets. He mantains several P&G Academic Partnerships and has been Visiting professor - among others - at the universities of Georgiatech, Purdue, Des Moines, Mines Paristech, the City University of London, Laval University Quebec, Solvay Brussels School.
Last but not least, Sergio is a certified Sommelier and is co-owner of the www.onlygreatwines.com company that imports many small producers wines in Belgium and runs the lovely Winehouse Osteria (www.wine-house.be) in the center of Brussels.
---
Tuesday, June 28
9:05 am - 10:05 am
Circular & Sustainable Wipes
Challenges and Pitfalls of Scaling Up a Waste Cleaning Wipes Collection and Recycle System
When it comes to plastic material recycling most of the attention is focused on plastic packaging and in the nonwoven space to absorbent hygienic products (e.g. diapers). So when we looked at the opportunity for cleaning wipes to get recycled it was easy to develop a kind of "Cinderella" Syndrome and feel like we were the odd one out at the party. Still it emerged that what looked like weaknesses could be transformed in strengths, as cleaning wipes can in fact become a convenient pioneering experimental platform.