Conference Speakers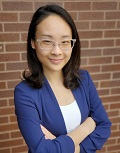 Liying Qian
Global Industry Manager – Tissue and Hygiene, Euromonitor International
BIOGRAPHY
Liying Qian is the global industry manager of tissue and disposable hygiene industries at Euromonitor International based in Chicago. Liying's research focuses on influential trends shaping tissue and disposable hygiene categories, underlying consumer preferences and behaviors, competitive dynamics, retail landscape, as well as ripple effects from insurgent brands and alternative product formats. She has contributed to publications such as Tissue World Magazine, Nonwovens Industry and Happi.
Prior to joining Euromonitor, Liying was a financial journalist. Following a brief stint at The Wall Street Journal, where she wrote about US stocks, Liying covered the M&A market in the Midwest for Mergermarket.
Liying holds bachelor's degrees in journalism and economics from University of Missouri.
---
Wednesday, June 29
2:00 pm - 3:30 pm
Trends in the Wipes Market and Among Consumers II
Lifestyle Shifts & the World of Wipes: Meeting the Changing Consumer Demand to Secure Growth
In 2021, retail sales of disposable wipes reached nearly USD17 billion, and the trajectory forward remains positive. However, there are a number of challenges facing the industry ahead. While sustainability often is in focus, it is also important to address a number of fundamental consumer lifestyle changes that go beyond sustainability that can shape the performance of wipes long-term.
Euromonitor presentation will discuss:
1) The overall state of the industry and forecast for the coming years
2) Consumer lifestyle changes, especially those related to personal and beauty care routines, based on Euromonitor International annual Voice of the Consumer surveys
3) Challenges and opportunities for wipes innovation and brand engagement that reflect the changing consumer attitudes and behavior, with particular focus on personal care wipes.