Conference Speakers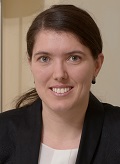 Gyöngyi Dávid
Attorney at Law, V V G B Advocaten-Avocats
BIOGRAPHY
Gyöngyi Dávid focuses her practice on EU regulatory compliance in the field of environmental and food law as a senior associate in the EU, Trade & Competition team.
She has several years of experience advising on regulatory compliance questions of the REACH and CLP regulations, biocides, plant protection products, cosmetics, food contact materials and medical devices as well as waste.
In the area of food and food contact materials, Gyöngyi has strong experience in composition and assessment of food and cosmetic products – including the analysis of borderline products – and the marketing of food products in multiple European countries and is regularly involved in matters related to plastics, recycling and sustainability and in compliance of food contact materials with EU and national legislation.
In addition to cost-effective compliance strategies, Gyöngyi advised on data sharing negotiations, consortia management, regulatory due diligence, and assessment of related competition law issues she was also involved in cases before the Court of Justice of the EU.
Prior to joining VVGB, Gyöngyi worked in Environmental and Life Sciences teams of two big international law firms (Steptoe & Johnson and Jones Day) as well as the European Commission's DG Competition focusing on the consumer products and manufacturing sectors.
She is a qualified lawyer.
---
Tuesday, July 13
8:35 am - 9:50 am
Wipes and the Growing Plastics Debate
Recent Developments Under the EU Green Deal and Plastics Strategy – Update on the Impact of the Pandemic
The EU Green Deal is calling for requirements "to ensure that all packaging in the EU market is reusable or recyclable in an economically viable manner by 2030". This initiative will result in the development of a revised regulatory framework for biodegradable and bio-based plastics which will boost the reuse of materials and restrict as much as feasible the use of single use plastics.
Within this framework the Commission has adopted its European Strategy for Plastics in a Circular Economy in January 2018, providing specific emphasis on single use plastics with the Single Use Plastics (SUP) Directive and facilitating the recycling of plastics and creating reusable secondary raw materials with the introduction of ECHA's database of Substances of Concern in Products (SCIP).
The presentation will cover the recent developments of the Commission's proposed strategy in these areas and its impact on the use of non-woven materials. It will examine the definition of "single use plastics" and the scope of the SUP Directive.
Finally, it will examine the challenges faced by industry and the regulators in relation to potential substitution pitfalls and will highlight some lessons learned from the COVID-19 pandemic.