Conference Speakers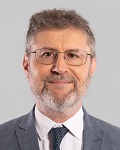 Paul Salama, Ph.D.
CTO & Head of Innovation, Sharon Laboratories
BIOGRAPHY
Dr. Paul Salama holds a B.Sc. in Chemistry and a M.Sc. in Chemical Engineering both from University of Lyon (France), along with a Ph.D. in Organic Chemistry from University of Montreal (Canada).
After having started his career as a university professor in Canada, he moved to the pharmaceutical industry in Canada then in Israel, holding senior research positions (VP CMC).
Dr. Salama leads the R&D activities of Sharon Laboratories since 2014 as its CTO and Head of Innovation.
---
Wednesday, July 19
11:00 am - 12:00 pm
Wipes: Whats New & Improved!
A Holistic Approach Towards Wet Wipes Preservation