Conference Speakers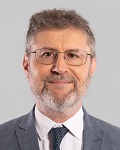 Paul Salama, Ph.D.
CTO & Head of Innovation, Sharon Laboratories
BIOGRAPHY
Dr. Paul Salama holds a B.Sc. in Chemistry and a M.Sc. in Chemical Engineering both from University of Lyon (France), along with a Ph.D. in Organic Chemistry from University of Montreal (Canada).
After having started his career as a university professor in Canada, he moved to the pharmaceutical industry in Canada then in Israel, holding senior research positions (VP CMC).
Dr. Salama leads the R&D activities of Sharon Laboratories since 2014 as its CTO and Head of Innovation.
---
Wednesday, July 14
11:00 am - 11:50 am
Innovation in Wet Wipe Preservatives
Unveiling Wet Wipes Preservation: New Findings on Microbial Risks and Novel Preservative Solution Created by Rational Design
Preservation for wet wipes is a well-known acute challenge, but the reasons for the difficulty are not well defined. In this presentation we will share the outcome of an in-depth research, aimed at defining the obstacles related to wet wipes preservation, including a quantitative approach.
The research will outline and explain that the cascade-problems originate from an intricate mixture of physical-chemical and microbiological elements.
We will show how the chemical composition of the non-woven fabric induces the two key elements creating the microorganic contamination, namely the propensity to form biofilm, with the inadequacy of the current preservative systems to protect from this threat.
The research methodology included a careful analysis of the polarity of the various components of the wet wipes systems, along with an extensive examination of fabrics by electron microscopy techniques. These results were corroborated by efficacy tests.
Based on these findings, we will introduce a new platform of preservative systems, targeted to answer both the technical hurdles described above, as well as the market demand for clean label and Eco-friendly solutions, with the flexibility to work with similar-to-nature, non-pH dependent systems at a surprisingly low level of use.