Conference Speakers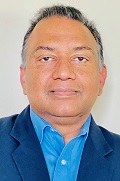 Vishal Bansal, Ph.D.
Vice President, Innovation, Glatfelter
BIOGRAPHY
As VP of Innovation for Glatfelter (NYSE: GLT), Dr. Vishal Bansal leads the global R&D, technical service, and product development organization. Prior to Glatfelter, Vishal held various senior technology leadership roles with Parker Hannifin, General Electric (GE), and DuPont. He earned Ph.D. in Chemical Engineering from University of Oklahoma (OU) and B.Tech in Chemical Engineering from IIT, Bombay.
Vishal is passionate about sustainable polymeric materials and their applications in single use as well as durable goods. Over the course of his career, he has been an inventor of over 50 granted patents, most of which led to successful commercial products.
---
Thursday, July 15
8:30 am - 10:35 am
Nonwoven Substrates for More Sustainable Wipes
Sustainable Solutions for Wipes
About 1.3 million tons of wipes are consumed each year, primarily in single-use applications, making it evident that sustainable solutions are urgently required. The focus on wipes has intensified in recent months with EU single-use plastic directives and the associated labeling requirements.
Glatfelter offers natural cellulose-based wipe substrates as a sustainable alternative to spunlace, spunbond and chemically bonded nonwovens. Several of these offerings may not require plastic labeling per the EU single use plastic directives.
This presentation will review a range of Glatfelter's new wipe offerings:
(a) Disinfecting and sanitizing wipe substrates – airlaid and wetlaid substrates are more sustainable alternatives to carded spunlace and include options that are compatible with a wide range of disinfecting solutions, and which should not require plastic labeling per the EU directives
(b) Baby wipe substrates – a range of airlaid substrates for premoistened baby wipes, including alternatives that will not require plastic labeling per the EU directives
(c) Flushable toilet tissue substrates – wetlaced substrates that meet the GD4 and UK Fine to Flush certification and do not require plastic labeling per the EU directives