Conference Speakers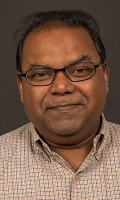 Abby Prasad, Ph.D.
Senior Scientist, International Paper
BIOGRAPHY
Abby has a double undergraduate degree in Chemistry and Chemical Engineering. He received his Ph.D. degree in Polymer Science from Florida State University. He worked as an NSF Post-Doctoral Fellow at Virginia Tech before joining Lyondell Petrochemicals as an R&D Scientist, working in area of Polyolefin based plastics. He worked at Lyondell for 8 years before joining Cabot Microelectronics as a Senior R&D Scientist. At Cabot, he worked for 20 years in the area of Chemical Mechanical Planarization of Integrated Circuits (IC) for Semiconductor applications.
He joined International Paper in April 2018 as a Senior Scientist, with a focus on the Enterprise Platform of the Global Cellulose Fibers Business. He has over 26 US issued Patents, over 60 scientific publications in peer reviewed journals, has authored several book chapters and has given numerous invited talks at national and international conferences.
---
Thursday, August 27
5:00 pm - 11:00 pm
WOW On-demand
Cellulose Based Wipes: Our Renewable Future
There is a growing demand from consumers and governmental organizations for natural and sustainably sourced single-use wipes. Many of the disposable wipes in the segment today do not meet these demands because they contain plastics that may be harmful to the environment and sewage treatment systems. Because of this, governments are proposing more regulations that are stringent and the industry is moving towards products that are 100% biodegradable and completely dispersible when flushed.
Wood-based cellulose fibers harvested from renewable, sustainably managed forests are an excellent raw material choice for manufacturers of baby and personal care plastic free wipes. 100% native cellulose nonwoven wipes substrate were produced by wetlaid and airlaid process, followed by hydroentanglement bonding technique. This presentation highlights the impact of fiber type on physical properties of 100% cellulosic wipes made under varying hydroentangling conditions. The new physical property data of 100% cellulosic wipes are compared with the physical properties data of some commercial wipes.