Conference Speakers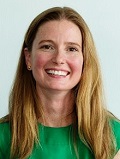 Katie Keating
Founding Partner/Co-CCO, Fancy LLC
BIOGRAPHY
Katie went to New York for a New Year's Eve party and never left.
As Founding Partner/Co-Chief Creative Officer of Fancy LLC, she sees inspiration around every corner. She loves the excitement born out of big ideas and brings that enthusiasm to every account. The biggest, most exciting idea yet? Founding Fancy with her long-time creative partner, Erica Fite, eight years ago. Firmly women-focused from the get-go, they jump at every chance to do great work that elevates what matters to women, by tackling often taboo subjects that are normal parts of everyday life. Highlights include launching category-creating beauty device iluminage by appealing to the intelligence of women 40+ instead of their insecurity, traveling to Haiti with 6 women to shoot a video about childbirth in the poorest country in the western hemisphere, normalizing the conversation around women's sexual pleasure for adult retail chain Lion's Den, and helping launch the cannabis brand Coral Reefer.
Prior to founding Fancy, Katie worked her way in, up, and around the big-name, blue-chip agency world: Saatchi, Publicis, JWT, Grey, and even a stint on the client-side at Clinique. Campaigns for Olay, Tide, Garnier, Delta Air Lines, Pantene, Clairol and more all bear her hallmark copywriting style of thoughtful words delivered with a wink.
Katie received a BA in Psychology from Kenyon College, and a copywriting degree from Portfolio Center. She continues to be fascinated by what makes people tick, especially her husband and two teenagers in NYC.
---
Wednesday, August 26
10:30 am - 11:30 am
Emerging Needs and Wants of a Changing Consumer Base II
Tackling Social Taboos: Reflecting Real Life for Real Profits
As advertisers and marketers, we have an opportunity to reflect the status quo or push the cultural needle forward. So much of our normal everyday lives has been hushed by society, stigmatized and shamed. When brands engage with people in real, authentic, and emotional ways that show they are on their side, they create a lasting connection and build brand advocacy. Consider this a call to action for brands to use their power and might to break barriers while making product breakthroughs (and the money will follow).