Conference Speakers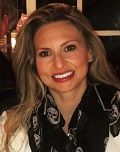 Jessica Byrd
Global Business Director, Vertellus
BIOGRAPHY
Jessica's career began in the Research and Development labs at Dow Chemical and has progressed through technical marketing, sales, and leadership roles over 20 years at Clariant, Vertellus, and Resources of Nature. Most recently Jessica is leading the new corporate technical strategy for Vertellus in her new Global Business Director role for the Personal Care, Pharma, HI&I, and Medical Device business units. Jessica has been involved with the Environmental Defense Fund's project for safe preservation of personal care products as well as the development of unique surface coating polymers on a variety of substrates and applications to advance products for a constantly changing market space.
---
Tuesday, August 25
11:30 am - 12:30 pm
Navigating the Unsettled Preservatives Landscape
Personal Care Trends Impacting the Use & Choice of Preservatives
Personal Care products, like any product containing water and organic or inorganic compounds, require preservation against microbial contamination and overgrowth to guarantee consumer's safety and formula long term stability. With microbiological safety has as main goal, how are consumer demands and trends affecting the industry's ability to stay inventive and relevant in a very digitally dynamic environment?
Global constraints on available preservation ingredients to meet existing, new, and emerging trends requires the industry to use other tools available that harness our creative availability to deliver unique product forms, packaging, and modes of delivery while remaining "free-from, "natural", "biodegradable", "sustainable", "allergen-free". Industry wide engagement and partnership can and will insure next level delivery on effective, safe, and on-trend interwoven products to the end consumer.