Conference Speakers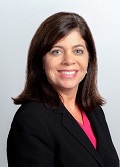 Tracy Doucet
Senior Director, R&E, Kimberly-Clark Corporation
BIOGRAPHY
Tracy A. Doucet is the Senior Director, Research and Engineering for Kimberly-Clark Global Nonwovens. Tracy leads the team of over 100 researchers, scientists and engineers to partner with internal brands such as Huggies®, Pull-Ups®, Depend®, WypAll® and KleenGuard® to invent and innovate materials that deliver on consumers' unmet needs and bring brand benefits to life.
Tracy has been with Kimberly-Clark Corporation for 19 years in a variety of roles and functions for the corporation. Prior to her role in Global Nonwovens, Tracy was the Health & Wellness Business Leader for Kimberly-Clark Professional. Previously, as Director of Corporate Strategy, Tracy led the Global Corporate Objective Setting Process and the Hospital Strategy which dramatically increased the Huggies® Brand share with new moms. Before joining Kimberly-Clark, Tracy held product and category manager roles at a large, private label consumer products company.
Tracy has a passion for diversity and inclusion and is the current Executive Sponsor of the K-C Roswell Women's Inclusive Network (WIN) and past Executive Sponsor for the New Employee Network (NEON).
Tracy earned two Bachelor's degrees from University of Central Florida and a MBA with a concentration in Marketing from Georgia State University. Tracy currently lives in Johns Creek, GA with her husband and two elementary school age children.
---
Wednesday, June 26
2:00 pm - 3:20 pm
Sustainability Challenge: Throwing Plastics Away When There is No Away I
Wiping Responsibly
Kimberly-Clark's vision guides us to make lives better through the essential products we make, and the programs we implement in the communities where we live and work. To that end, Kimberly-Clark is working to tackle the challenges associated with post-consumer waste and single-use plastics with a focus on delivering a preferred consumer experience for products, such as baby wipes and flushable wipes, while reducing their overall impact from source to shelf and beyond. Kimberly-Clark's Lisa Morden, VP of Safety and Sustainability, discusses the emerging challenges faced by companies from NGOs, regulatory agencies and activist consumers, and the steps they are taking to address the issue of post-consumer waste.