Conference Speakers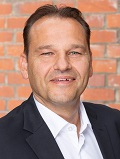 Helmut Lauterbach
Business Manager Textile And Nonwoven, Kelheim Fibres GmbH
BIOGRAPHY
Helmut Lauterbach, Dipl.-Ing. (FH)
Business Manager Textile and Nonwoven
Kelheim Fibres GmbH
After a completing an apprenticeship as dyer, Helmut studied textile applications with focus on nonwoven/technical textiles. He acquired a degree in textile engineering from the University
of Applied Sciences in Münchberg/Germany.
Work experience:
• 5 years as R&D engineer for New Product Development at Du Pont de Nemours
Deutschland GmbH/Germany (Nylon, Antron® carpet fibres)
• 6.5 years as Area Sales Manager for Stäubli Bayreuth GmbH one of the leading
companies for speciality textile machinery
• 8 years as International Sales Manager for Stäubli Bayreuth GmbH (carpet weaving
machines for the residential, contract, outdoor and transportation area)
• Since almost two years Business Manager Textile and Nonwoven at Kelheim Fibres GmbH,
one of the world´s leading supplier for functional viscose fibres.
Textiles run through Helmut's working life like a red thread. Working with fibres, textiles/nonwovens and exciting people from the industry is his designation and mission.
---
Wednesday, June 26
9:00 am - 10:00 am
Material Developments in Wipes I
Activated Viscose Fibres for Utilisation of Disinfectants with Cellulosic Wipes
With the newly developed viscose fibre speciality Danufil® QR, Kelheim Fibres has mastered a challenge in the area of disinfection wipes. So far, the use of viscose fibres in these antiseptic wipes has posed a significant problem in spite of their excellent fluid handling properties: the fibres bind certain disinfectant substances which severely interferes with the wipes' function. The active substances are quaternary ammonium compounds. These so-called "quats" are positively charged. Standard viscose fibres are negatively charged which is why up to 80% of the quats are tightly bound to the fibre – meaning they are no longer available for their actual purpose.
With the viscose speciality Danufil® QR, we have developed a positively charged viscose fibre. This fibre receives its functionality through the incorporation of a – completely bio-degradable - additive into the fibre's core. Therefore, the functionality is evenly distributed and cannot migrate from the material. To prove the functionality standard viscose, Danufil® QR and fibre blends were treated with quat solutions of different concentrations. The solutions were analysed in terms of free quats remaining in solution. In the case of Danufil® QR 80 – 90 % of quats remain free in solution whereas regular viscose immobilises more than 70 % of the quats. Kelheim's viscose fibres also score high points for eco-friendliness, particularly in convenient disposable products: Danufil® QR is made of 100% renewable raw materials. The cellulose used for these fibres comes exclusively from FSC®- or PEFCTM-certified sources. Subsequently, Danufil® QR offers all the well-known benefits of viscose fibres such as absorbency and distribution of lotion, softness and skin-friendliness for disinfectant wipes.