Conference Speakers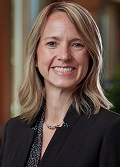 Wendy Warner
VP, Global Specialties Health, Hygiene, And Specialties Divison, Berry Global, Inc.
---
Tuesday, June 25
3:00 pm - 4:30 pm
Infection Protection
Industrial Wipes: Market Driven Innovations
Industrial wipes are engineered to effectively minimize the threat of healthcare-associated infections (HAIs), community-associated infections (CAIs), particulates on critical manufacturing surfaces, and also improve general cleanliness. As the world evolves, so do the demands on these products. Macro trends that are driving critical innovation needs of industrial wipes include increased population density, fear of germs, industrial modernization, process monitoring and control regulations, the Internet of Things (IoT), and professionalization of cleaning operations. The impact of each of these trends varies by market segment and region of the world. As wipe innovators, we need to deliver effective solutions for each given rmarket application.
This presentation will outline key trends driving innovation in four industrial wipe markets: Consumer Services (e.g. food, grocery, mass transit), Healthcare, Industrial Manufacturing and Building Services. It will also identify and explore innovations in chemistry, wiping fabrics, packaging/delivery, and cleaning mechanisms including robots and information technology (IT) that address these key trends.