Conference Speakers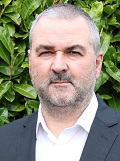 Phil Hindley
Head, Global Marketing Preservation, Lonza
BIOGRAPHY
Phil has worked within Lonza and predecessor companies (Arch, Avecia, Zeneca and ICI) for 32 years, gradually moving from Technical positions within formulation and development to the Marketing area, most recently to the position of Global Marketing Director for the Home Care business within Lonza Specialty Ingredients. In this current role, Phil is responsible for defining and implementing the business strategy, including market approach and development plans for Lonza's Home Care business, focusing on Consumer Preservation, Consumer Disinfection and Laundry Hygiene.
---
Tuesday, August 25
11:30 am - 12:30 pm
Navigating the Unsettled Preservatives Landscape
Preserving Preservatives, The Next Chapter
When preservation fails, products fail with it. The consequences of ineffective preservation of consumer products are clear and significant, and can impact consumer safety, brand reputation, and business profitability. However, despite this continuing and distinct need for effective preservation, the options available to the formulator today are different from what they were a few years ago, and likely different from what they will be in the years ahead. The challenges faced by today's personal care formulator now not only include meeting safety, regulatory, performance and cost targets, but increasingly a need to satisfy demands and desires from consumers and NGOs which range from value-add claims such as 'natural', 'sustainable' and 'Halal', to 'free-from' proclamations celebrating ingredients' absence rather than their presence.
This 'sweet spot' between balancing consumer demands and industry deliverables is diminishing, and there clearly exists a need for cross-stakeholder engagement, a reality-check, to help consumers and consumer groups understand the true value of preservation, and indeed the risks to them and their families of inadequate preservation. Interwoven industry programmes centred on advocacy, science-led education and innovation are key to our helping ensure that consumer products remain satisfying, uncompromised, safe and effective.