Conference Speakers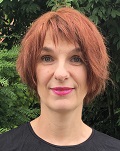 Heidi Beatty
Project Manager Consultant, Crown Abbey, LLC
BIOGRAPHY
Heidi Beatty has a successful track record as an Innovator and project manager. Over her 20-year career, Heidi has launched products for some of the world's leading brands as well as for some of the most entrepreneurial start-ups. As CEO of Crown Abbey, Heidi and her team helps a global client base across consumer, health care and nutritional categories to identify and commercialize new technologies.
After gaining a bachelor's degree in Chemistry from the University of York, UK, Heidi worked with Johnson & Johnson for over 10 years across Europe and the US. From there, she has worked at both mid-size companies as well as start-ups, before founding Crown Abbey, nearly 5 years ago.
Heidi speaks & moderates at many conferences on a variety of topics, including women's health products, innovation and project management tools.
---
Wednesday, August 26
9:00 am - 10:00 am
Emerging Needs and Wants of a Changing Consumer Base I
100 Most Influential Wet Wipe Brands (and Their Impact On Our Industry)
Looking at the personal care category of Baby, Cosmetic and flushable wipes, this presentation will look at 100 different brands and how their products are utilizing new technologies, new packaging and new claims. We see how local launches in individual countries are different to multi-regional launches. The focus will be on wet wipes in USA and Europe, which will highlight the similarities and differences in brands and their positioning across different regions.
In addition, we will do a deep dive into how start-ups have carved out space compared to the big, traditional brands – what are their challenges & their advantages?
Wednesday, August 26
2:00 pm - 2:45 pm
Plastics: Changing Consumer Priorities & Perspectives in the Age of COVID-19